December 2020
Dear Nicaragua College Fund family and friends,
As we look ahead toward the end of 2020 and the beginning of a new year, we are grateful for the loyalty of so many individuals and organizations that have continued to support our scholarship students in Nicaragua. As of this writing, we have 43 young adults taking classes online at trade schools, colleges, and universities in and around Managua, Nicaragua.
It has been a difficult year in Nicaragua, as it has been across most of the world. The civil unrest that erupted in the spring of 2018 persists. The COVID pandemic has caused an increase in unemployment, more severe poverty, wide-spread food insecurity, and many hundreds of deaths. It has also led to a disruption of the educational system, which most of our scholarship students have battled to finally be able to return to their studies, while not in person, at least online.
This December, 18 students are graduating from El Padul, and all of them hope to continue their educations at colleges and universities next year. We are in the process of reviewing their applications and will be making decisions in the next month regarding which students will be supported at private and public universities, community colleges, and trade schools. Thanks to the involvement of the administrators and teachers at El Padul, we have a very good understanding of which students are most likely to succeed and thrive in these environments.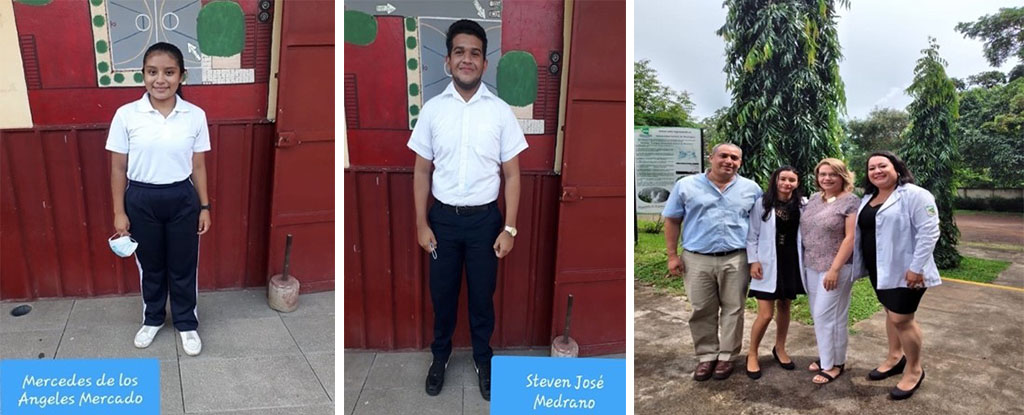 Above are photos of Mercedes and Steven, two of the students graduating this year. In the photo to the right, Luisa Garcia is pictured second from left, having just graduated with her degree in nursing.
It is the mission of the Nicaragua College Fund to give well-qualified Nicaraguan students access to higher educations with the goals of improving their standards of living and creating leaders to help break the cycle of poverty in their communities and nation. Never has it been so important to educate and prepare these young people. They are the leaders that Nicaragua desperately needs for a better tomorrow.
Please help us to create positive change in Nicaragua. You can make a donation by going to our website Donate page at https://nicaraguacollegefund.org/donate/. 100% of your donation goes to pay for the students' tuitions, fees, and transportation and your donation is tax deductible.
With gratitude and best wishes for a healthy and joyous 2021,
Haydi Danielson and the directors of the Nicaragua College Fund